Linkedin Featured Portfolio
︎ A tool for professionals to show off their work. ︎
Linkedin Featured Portfolio empowers professionals in creative, technical, and craft-based fields to showcase their work for increased discoverability while encourage community engagement.
Introduction:
I collaborated with 2 UX designers to research and design a robust, high-fidelity prototype of a product for Linkedin. We leveraged the double diamond design process and project management techniques to improve our workflow and the consistency of our designs.
Responsibilities:
Competitive Analysis / Qualitative Research / Persona Development / UX/UI / Prototyping / Usability Testing
Role:
Interaction Design
UX Research
Team:
Tran Dang
Sampada Samaka
Timeline:
2 weeks
Challenge

Limiting format to showcase work.

Linkedin has established itself as a trusted and dependable social network for professionals of all backgrounds. However, its current format limits those in creative, technical, and craft-based industries from showcasing their work beyond a resume.

These users often resort to other platforms like a personal website or Github to display their visual, animated, and coded work.
Top Goals
---
Create a seamless and user-friendly experience for makers to upload and showcase their projects.


Empower users of all backgrounds to showcase their work on Linkedin.
Solution
Linkedin Featured Portfolio
A tool that empowers makers to exhibit their work on Linkedin to be more discoverable by recruiters and hiring managers, while enabling opportunities for engagement and feedback from the community.
Framing Question

---

How might we enable users to integrate their portfolio on Linkedin to demonstrate their expertise to potential recruiters and the Linkedin network?
Phase 1:

Research
& Synthesis
Market Research
Qualitative User Research
Affinity Mapping
Persona Development
Phase 2:

Define, Design & Test
Problem Statement
Concept Modeling
User Flows, Wireflows, WireframesA/B
Testing
Usability Testing
Phase 1: Research & Synthesis
Competitive & Comparative Analysis
Understanding the competitive landscape.
Collaborating with my team, we reviewed Indeed, Upwork, Instagram, and TikTok through task analyses, feature inventories, and Pluses & Deltas. We wanted to assess how they:



Enable users to showcase their skills and personality.


Foster user engagement and connection.


Optimize navigation to access desired features.
Key Takeaways
---
An onboarding experience prompts users to complete their profile and fill out important information, simplifying the complicated process.


Platforms provided the option for external links to supplement the content.


Unlike more traditional job search platforms, Instagram and TikTok allow for greater levels of audience interaction and engagement.


Sites follow a minimalist approach, prioritizing easy navigation to the most important features to make them easily accessible to users.
User Interviews
Discovering user needs & empathizing
with our target audience.
To gather a range of perspectives, we conducted interviews with professionals from a variety of backgrounds to understand why they choose to showcase their work, what their preferences are, their experiences using Linkedin, and the expectations of recruiters when assessing candidate profiles.
Participants:

---
12 professionals in design, entertainment, and engineering.
Insights
Identifying patterns and actionable insights.
Users prefer to include

just enough information

on their LinkedIn profiles for recruiters to understand their background while linking to their portfolio URL on their profile or resume.
"I try to keep my Linkedin profile minimal, I don't want to come off like I'm trying too hard. I put just enough for them to know what i do. If they're curious enough they'll click into my portfolio website."
Users in creative fields prioritize their personal branding and aesthetics, carefully curating their online presence to stand out and reinforce their credibility.
"I really like to have a certain aesthetic and style showcased in my portfolio. Not only are people looking at the body of work, they look at how the site is organized. A lot of creatives like the customizations to set themselves apart."
Users value expanding their network as a means of increasing visibility, opening up new opportunities, and staying up-to-date with their field.

"I intend to give a proof of the quality of work in my portfolio, and hope people will see my work and want to connect with me."
Users enjoy the grid format of Instagram and TikTok for showcasing portfolios because it offers an

easy and quick way to browse through content

.
"Through Instagram, we'd see a photoshoot we really like and a lot of time the publication will tag the artist. A lot of times, artists like that will have Instagram as their portfolio."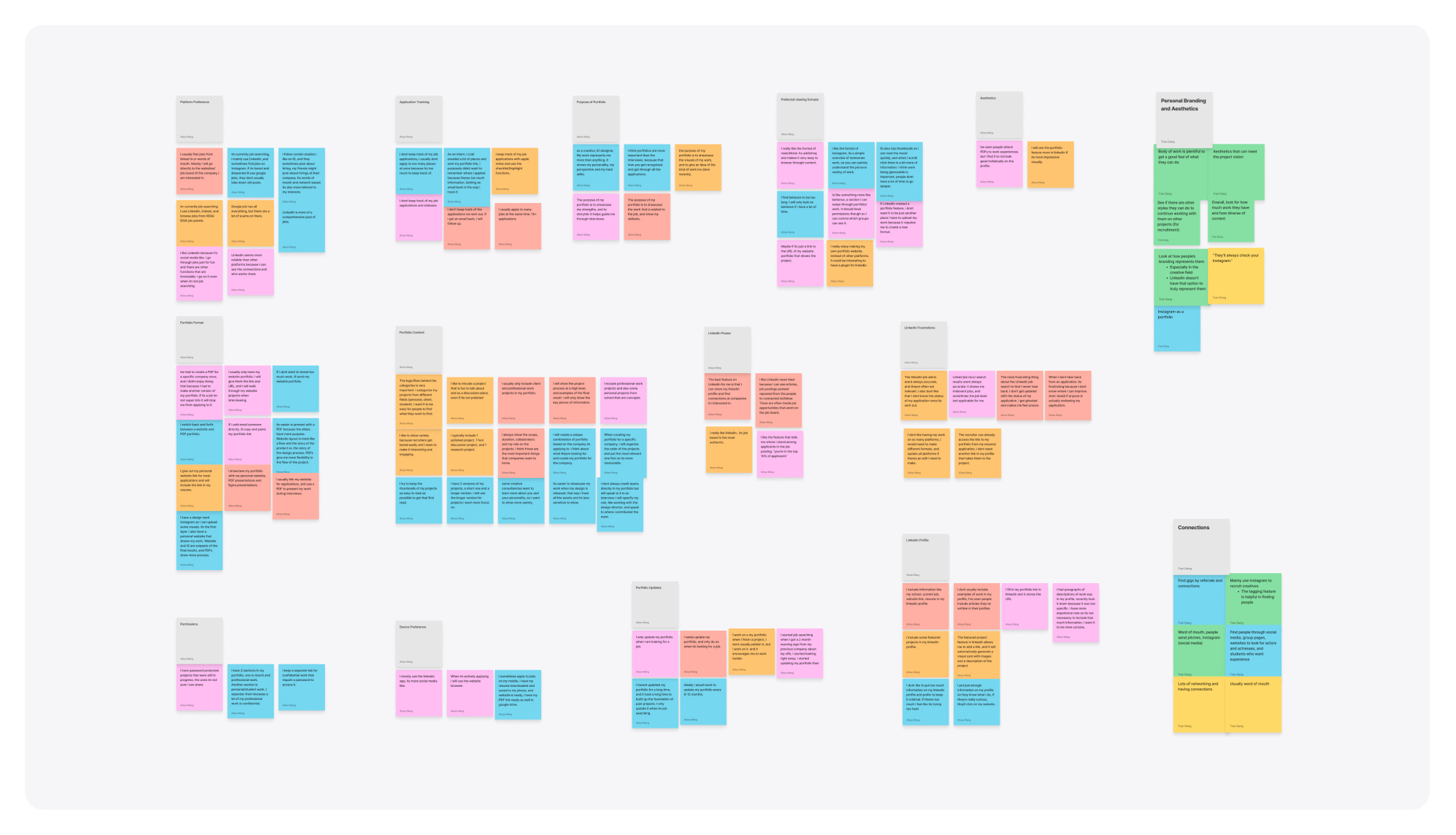 Persona Development

Primary & Secondary Personas
Based on our user interviews, we defined our primary and secondary personas to represent the range of users and different ways the tool is used.
Phase 2: Define, Design & Test
---

Ezra needs a way to showcase his current portfolio and highlight his design skills on Linkedin because he wants to demonstrate his expertise to potential recruiters and his network.



Design
Ideation & Concept Modeling

With a better understanding of our users, their needs and frustrations, we collectively brainstormed potential features and improvements
How might we make it easy for Ezra to integrate his current portfolio layout into his Linkedin profile?



How might we allow Ezra to customize his Linkedin to align with his personality, personal branding, and aesthetics?



How might we help Ezra build meaningful connections with those who share his interests and offer him insights and advice?

Key Features
We prioritized and honed in on the features that best solve our user's problems. Some of the key features we implemented were:
︎ Integration
---
Link and auto-populate assets from a personal website.
︎ Engagement
---
Add teammates and invite them to comment on the project collaboration.


Ability for the Linkedin community to make comments on the portfolio and projects.

︎ Personalzation
---
Ability to personalize the color of the featured portfolio.
Design

User Flows & Wireflows
We created user flows based on the task of integrating a project from a personal portfolio into their Linkedin profile. We needed to consider whether or not the user had an existing portfolio, and the level of detail they would prefer within the portfolio.
A/B Testing

Testing Feature Placement & Discoverability
We performed an A/B test to consider the placement of the "add featured portfolio" option, and learn its efficiency in encouraging users to use the feature compared to the existing design.
Takeaway
---

We found that all users preferred the alternative flow where the option is available directly in the profile. They found it to be more efficient, straight-forward and easy to find. The original layout was too hidden and users wouldn't even know that it's an option.

Design

High Fidelity Wireframes
Considering Linkedin's design and style guide, I started to layout the screens and add details to prepare our prototype 1 for usability tests.
Usability Testing
Identifying usability issues & making informed revisions.
We performed 5 usability tests to discover users' satisfaction in the process of completing the task, their decision-making process of using the design, and the way they might use the customization option available. Some of the metrics we used to determine our findings are:
Quantitative

---
The amount of clicks it takes for users to find the "Add Featured" option.



The amount of clicks it takes for users to complete the task.


Qualitative

---
Emotions and thoughts when going through the prototype. Frustrations they face and why.



Comments made during the process.
Revisions
Making informed improvements.
Based on each one of our key findings, I iterated on the design to solve for the frustrations our users had.
Finding
---
4/5 users attempted to click on the "Add profile section" button before seeing the plus icon.

Revision
---
Add a prompt to notifty users of the new feature and shortcut.

Finding
---
2/5 users found the "Add a potfolio" page overwhelming because there were immediately a lot of options.
Revision
---
Minimizie input fields and simplify the amount of options to "add a link" and "upload manually".

Finding
---
3/5 users overlooked "Customize Appearance" and weren't sure how it shows up.
Revision
---
Add a color swatch indicator to show the default color, and updated color when customized.

Final Design Prototype

Featured Portfolio - A tool to show off your work.

︎ Integration
---
Connect your existing portfolio website and populate content and assets.



Add project pages within a Featured Portfolio.
︎ Engagement
---
Add hashtags to optimize the portfolio in search results.
︎ Engagement
---
Add project collaborators.



Invite collaborators to comment on teamwork experience.
︎ Personalzation
---
Customize appearance of portfolio pages by selecting from preset colors and gradients.
︎ Personalzation
---
View featured portfolio in Linkedin profile.
︎ Engagement
---
Receive comments and feedback from the Linkedin community.
Next Steps
Further Revisions

There were another few findings from our usability tests that I would love to implement into the next round of revisions such as:

Users wanted to option to remove images that were auto-populated when adding their portfolio and project pages.
Users wanted the clarity of whether saving the portfolio would publish it to their feed or notify their network of their update.
They would like the option to add a caption and publish it to the news feed for their connections to view.
︎︎︎